Bruce Lee - Duology
Game compilation for C64, 2019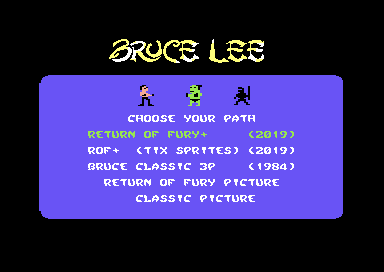 Duology features an enhanced version of Return of Fury (ROF+), a version with alternative sprites, a 3-player mod of the classic Bruce Lee game, plus some nice bonus material.
This is the definitive and final version of Return of Fury.
Features
CRT (Easyflash) and D64 file formats
ROF+ Several bugs fixed, plus visual enhancements
ROF+ New title logo by Flow TnT
ROF+ Options menu with trainers, compo mode, and custom sprite colours
ROF+ A version with alternative sprites by TIX
Bruce Lee Classic with 3 player support!
The amazing loader picture by Sparkler / Megastyle set to music by Rage / Megastyle
The classic Kelly Day picture set to a stunning tune by OMP / Prosonix
Easyflash menu with smoothly smooth scrolling scrolltext
Released on 8th November 2019.
Download
Credits
Original game © 1984 DataSoft, Inc.
Developed by Ron J. Fortier, Kelly Day, John A. Fitzpatrick
Return of Fury: Maps, music and additional code by dmx (Vidar Bang)
ROF+ Title logo by Flow TnT (Chris Persad)
ROF+ Alternative sprite sheet by TIX (Konstantinos Giamalidis)
ROF+ Font and menu font by Steven Wahid (Yie Ar Kung Fu)
ROF Loader picture, the moon and sun by Sparkler / Megastyle (Rune Spaans)
ROF Loader music by Rage / Megastyle (Anders Rodahl)
Classic picture music by OMP / Prosonix (Ole Marius Pettersen)
Links
[itch] Bruce Lee - Duology (Most recent files here)

[csdb] [Bruce Lee - Duology] (NOTE! Files on csdb are outdated)
Also see